Fire Plans? Smoke Alarms? House Fire?  Could happen to happen to me?  Do I really need a Home Emergency Fire Plan or a  Could happen to happen to me?  Do I really need a Home Emergency Fire Plan or a Smoke Alarm?
It couldn't happen to me! Could it! I will be able to quickly think on how to survive a fire if and when it happens to me or my family. I will be able to cope with any conceivable situation. I'm smart. I know enough to get by. I'm physically able. I'm agile. I will be able to avoid and escape any perceivable and possible fire emergency.
My family and I won't be affected physically, financially or emotionally. Everything will be OK! Won't it!
Let's get it straight. We all panic to some degree when we are placed in life threatening situations. When we panic, we don't think straight or logically. There is a intriguing paper on this topic; Judgement and Decision making under stress: An Overview for Emergency Managers by Kathleeen M Kowakski, Ph D & Charles Vaught Ph D National Institute for Occupational Safety and Health, Pittsburgh Research Laboratory where it shows that no matter who or how well we are trained do panic and make irrational decisions.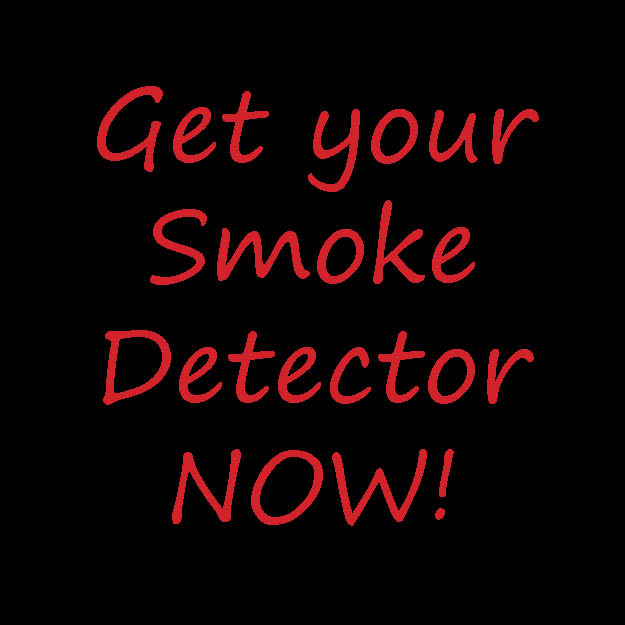 It has been repeatedly shown that we make wrong decisions when we are not adequately trained. Even when we are trained, we have not necessarily been trained for every situation possible.
What are of the risks of my family and I being involved in a fire? Extremely low you may say. For many people it is probably the answer is yes. Let me put forward a few potential situations and let me know if you could place yourself in this environment?
You live in an apartment block where there are smokers. (Did you a significant proportion of house and apartment fires start by smokers?)
Live in an older house or apartment block.
Be pm a picnic in the bushland/ forest on a hot summers day.
Living in suburbia near or close by forest, bushland or scrub-land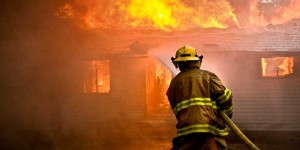 On a yearly basis in the US there is over 7.4 million house fires, over 487,000 fire department attended house fires, 2,800 deaths and 13,000 fire injuries and $11.5 billion in damages. source NFPA
About 90% of all 46,000 wild fires are human-caused resulting from camp fires, cigarettes and intentional arson acts. They burn around 4-6 million acres of land each year. Wildfires do cause substantial property damaged. The Insurance Information Institute has calculated it at over $3.5 billion and typically over $1 billion per year. This includes the loss of around 2200 homes and structures each year. As reported by National Wildfire Coordinating Group wildfires kill on around 20-40 deaths per year.
 Source: © 2014 Munich Re, Geo Risks Research, NatCatSERVICE.
Even though more than 72,000 US communities are at risks to wildfires, household fires are by far as the most dramatic impact on individuals and communities.    Less than 2 % of deaths and 1% house lost by fire is caused by wildfires.   Wildfires are often a lot more dramatic and frightening for the wider community.
Emergency Wildfire Evacuation Survival Kit
Should you live in an area where you are prone to wildfire, forest fires or bush fires, you should have a prepared Wildfire Survival Kit.
General items
Portable battery-operated radio
Waterproof torch and batteries
First aid kit with manual
Candles with waterproof matches
Woollen blankets (they are fire proof)
Emergency contact numbers
Waterproof bag for valuables
Face masks
Before you leave, add:
Cash, ATM cards, credit cards
Medications, toiletries and sanitary supplies
Special requirements for infants, elderly, injured, disabled
Mobile phone and charger
Combination pocket knife
Important documents, valuables and photos (in waterproof bag)
Change of clothes for everyone
 Drinking water (at least three litres per person per day)
Leading causes of House Fires
The National Fire Protection Association has a detailed report on causes on houses fires.
The National Fire Protection Association Report on house fires has some key findings on the causes and locations of fire. Many home fires can be avoided or at least contained quickly. The key causes of non-intentional home fires include;
Kitchen fires
Heating equipment
Electric blankets
Faulty electric equipment- frayed cords or plugs
Smoking in bed/ careless smoking
Overloaded power outlets
Candles.
Children playing with fire, either experimenting, or just being curious
Old inadequate electrical household wiring. Old homes have electrical cabling have decaying power cables
Flammable liquids, fuel, petrol, gasoline, paint solvents, cleaning agents are stored in an inappropriate locations.
Christmas Tree and decoration
Barbecue- Always use them outside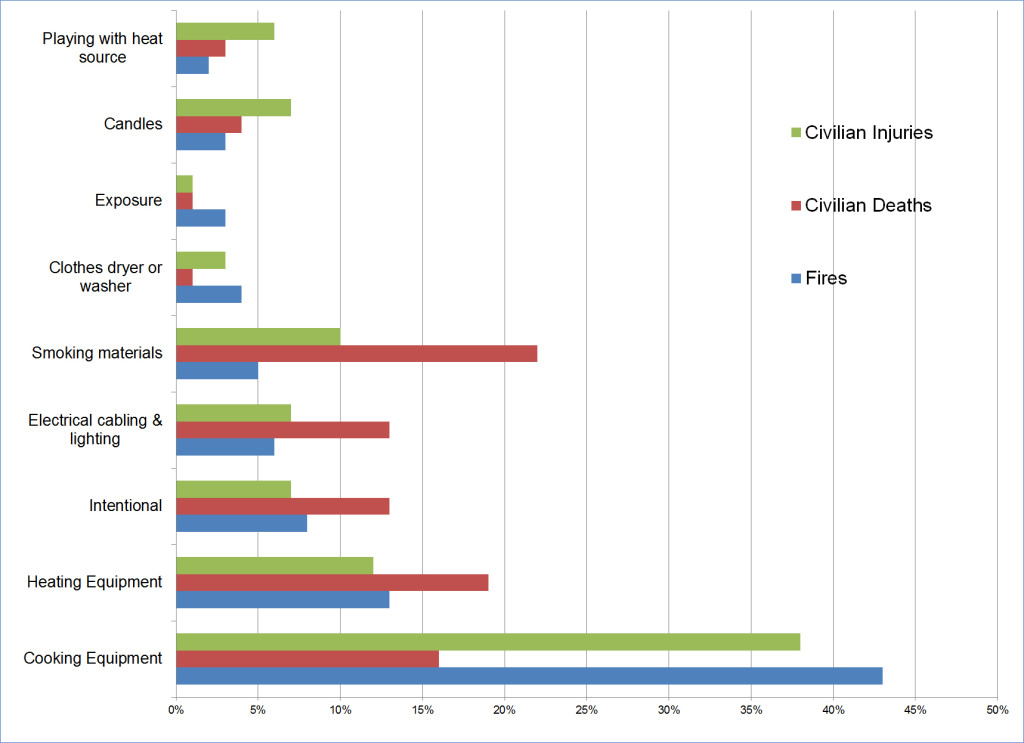 Why need a Fire Plan? Over 7.4 million house fires in the US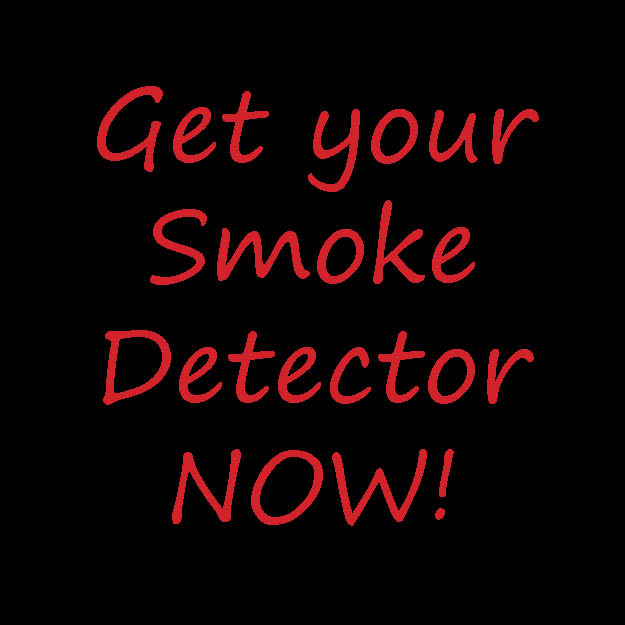 A startling finding that 80% of house fires deaths occurred where there were no and/or non-working fire smoke alarms.
How many lives, out of 5,700 people who died in house fires could have been saved if fire safety monitors were installed and maintained?

This could have been prevented!
With the active introduction of smoke alarms in households, the amount of deaths in homes has reduced by 65% since 1980 as well as the number of house fires. This is great empirical evidence show how important smoke alarms are in saving lives. Notwithstanding this, the rate of deaths in house fires per 1,000 house fires remains constant over the last 30 years.
Interesting Fact. Over twice as many house fires occur in Winter months
Where do house fires commonly occur?
Most fires start in the kitchen, though it is not the one that causes most deaths. Surprising, the second most location of house fires is in bedrooms. Cigarette ignite house fires are the leading cause of household deaths followed by home heating equipment.
Fact: Only 5% of house fires start in either the bed mattresses or upholstered furniture but contributes to over 31% of deaths.
There are few obvious ways to reduce house hold fires other than having smoke alarms. These include;
Don't smoke in bedrooms
Avoid smoking indoors
Avoid having the electric blanket on throughout the night
If you do require to smoke, make sure that it does ignite any furniture or other material
Be extremely cautious of heating equipment in bedrooms and common living areas. Make sure that nothing can accidently fall on to the heating equipment
Keep heating equipment away from window coverings
Have accessible fire extinguishers
So what should you do?
First off, don't put off planning and arranging your fire emergency plan. Don't just plan. Action is required. There is a great Australian commercial about fire protection planning. Have a look and be entertained.
There are some very quick, easy and cheap ways to protect you and your family that what I consider mandatory and absolutely no excuse to not do immediately. The very best way to survive a fire is to install a fire smoke alarm at home. In many countries this is compulsory by law to.
Ensure your home has working fire smoke alarms.
At least you will be aware that a fire is happening and significantly reduces your risk of dying in a fire! SIGNIFICANTLY
As a basic, make sure that your home has sufficiently number and located smoke alarms. Here are some tips on smoke alarms
Have smoke alarms in the key areas where fires happen, kitchen, bedrooms and living areas.
Ensure that the batteries fully charged in all your smoke alarms?
If at all possible have the smoke alarms interconnected to allow simultaneous sounding with activated?
Put on your family calendar a smoke alarm test to check the batteries.
Household Emergency Fire Plan Drill
Whether or not smoke alarms are installed, it is important to review and practice the house fire plan evacuation plan regularly. Make it a fun activity. It does have to take long. Only a few minutes!
Fire drills don't need to be elaborated or complicated. They need to be simple and fun, even though there is serious side of this exercise. Here is a step-by-step instruction of creating a plan!
Have a family meeting to discuss, plan and prepare to conduct a fire drill.

Where possible have a least 2 exit paths from each room
Have a fire assemble area outside the premises
Ensure all security doors have keys that are accessible from two separate locations. Make sure they are clearly marked with large tags. Even colour code with tags.
Know where to access and use fire extinguisher.

Let everyone know that where to meet, emergency assembly area, when the smoke alarm goes off. Ensure that that everyone should treat it seriously and escape the premises as carefully and fast as possible the meeting place.
Let everyone go to different rooms wait for the alarm.
Activate the smoke alarm once everyone is their rooms. This can be performed by pushing the test button on the smoke alarms. Time and observe how the family escape the premises.
At the Emergency Assembly Area and discuss with everyone how the drill went and what issues they had getting out when the fire alarm went off. For example, the window was locked, or I was in the bathroom and could fit through the bathroom window.
Refine the Emergency Fire Drill plan.
Never go back into a burning house
At the bottom of this article there a number of self-explanatory tips in developing a home emergency fire plan. Take advantage of this.
House Fire Plan Management
Many home fires can be easily controlled and extinguished before getting too large or spreading.to more rooms. More than 90% fires in home are quickly extinguished but not before causing significant damage and loss of personal belonging.
Having access to fire retarding equipment such as fire blankets and fire extinguishers combined with looking smoke alarms can significantly reduce the impact of any house fire. If you have a multi-storey home, you may want to consider a foldable rope ladder store in the upper sections of the house to help ease of escape. It is important to have some kind of fire emergency kit handy.
An extremely important part of being prepared for a house fire is to have an adequate First Aid Kit to manage any potential burns that may occur.
Get your free House Fire Protection Check list click to download Personal-Survivor-Emergency Fire-Plan Checklist
Sometimes no matter how much you prepare you cannot avoid a home fire. For example, if you home is near bush land or forest, your home will be susceptible to Mother Nature. In these cases, a home evacuation plan is required rather than extinguishing the fire as the ferocity of the fire cannot be managed.
You survived the house fire! What else do I consider in preparing a Home Emergency Home Evacuation Fire Plan.
There is nothing more important than you are and your family personal welfare. This ultimately the only thing matters.
With all this being said, what happens if you do get in a house fire situation and lose everything?
But what happens if it does? How will I recovery? How do I start again? Where am I going to live? Will I be financial devastated? Will I lose all my precious belongings? Will I lose all the information that I will need to get started again? Will it ruin my future? Will it send be bankrupt?
These are valid and real questions. These will be the questions you will be asking if you were unlucky enough to encounter a tragic fire situation. You will become very anxious and could become despair. The emotional trauma you and your family will go if you don't be prepared for such occurrence.
It does tear families apart.
The level of loss, anxiety and desperation can be significant easily reduced.
If you did adequate planning, you can significantly reduce the long term after effects of a house fire. After the very essential fire planning (installing smoke detectors and alarms) you will need to take time investment to prepared for this potential disaster so it doesn't cripple your future. It doesn't have to cost you a fortune either!
House and Content Insurance
One of the top items to ensure some level of recovery is to have adequate home fire insurance to replace hard earned belongs. Make sure you a corrected insured value of the property and possessions. It estimated that close to 80% of insured housed holds under insure by 30-50% of the replacement value. This happens due to inflationary increases of building, furniture, vehicle and other costs.
Insurance companies are very helpful in providing you with guidance and tools to determine actual current replacement values of current assets. One area to consider in insurance costs, is whether you want replacement costs or old-for-new value. Some insurance depreciated the cost of the asset and only give you that value. For example, if a lounge cost $800 at the time of purchase and it was destroyed by fire after 5 years, the insurance company may only assess it a value of $200 leaving you short $600. This is not the idea insurance for most people. You still need a lounge.
Protecting your valuables
Here is some of key items that needs to be considered in protecting valuables
Information stored on computers. Get off-site storage and do computer backup regularly and store the hard disk somewhere safe. There are many organisations available
Store important documents such as insurance policies, legal documents, marriage and birth certificates, education certificates, bank accounts, mortgage papers, medical papers, wills, photographs etc in a fireproof ad water proof storage box.
Store valuable jewellery in central location preferable In a fireproof and water area
Any family air looms
Have these items easily accessible so in case of a fire they can be easily taken out of the house
Other items to consider in the house hold fire plan include;
Alternative living conditions
 Income protections
 Pets
 Fire Emergency Kits
 First Aid kits to attend any burns
Finally, with a little bit of effort a potentially tragic and life changing can be significantly reduced or even eliminated. Some key points to protect you and your family is to have include in your Fire Plan;
 Working fire smoke alarms,
 Home evacuation plan,
 Adequate house and content insurance, and
 First Aid Kits
References for this article include
http://www.rfs.nsw.gov.au/plan-and-prepare/bush-fire-survival-plan
http://www.nfpa.org/safety-information/for-consumers/escape-planning/basic-fire-escape-planning
https://www.gov.uk/workplace-fire-safety-your-responsibilities/fire-safety-and-evacuation-plans
Tips for preparing a home emergency escape fire plan
Below is a basic check list in preparing your emergency avoidance home fire plan.
Make house map with all the doors and windows. Indicate out all possible exits. (This is especially important for high rise or apartment living)
Consider emergency exists for the disabled.
Do a physical walk through of all emergency exits. Ideally, every room should have two exits. (not possible in many occasions)
Keep all exits, doorways, corridors, hallways clutter free to allow easy access.
Don't partially block door ways.
Ensure all potential fire risk areas be well managed.
All household room heating devices, electric heaters, fire places etc, should have everything clear around them.
Avoid having hand towels, washing clothes around the kitchen stove and oven.
Have fire extinguishers available in throughout the house.
Avoid sleeping with the electric blanket on.
Should you have security bars on doors and/or windows ensure there is a quick-release device so they can be removed quickly.
Have multiple internal door lock keys and security door keys in easy accessed locations.
Have at least one fire blanket in each room. (one per person)
The Emergency Assembly Area could be a neighbours home, street light, or a safe distance in front of the house.
Make it easy for the emergency crews to identify your location. Make the house number easily seen.
Ensure have fire alarms areas in all susceptible areas, including the kitchen, basement, family room as well in hallways and inside each sleeping area.
Keep all valuables in area where they be quickly grabbed if you need to leave in a hurry.
Practice the staying low during a fire drill as smoke goes towards the ceiling
Consider pets in a fire drill.
There are many available national organisations that help make a more detailed plan. One such site is NFPA www.nfpa.org/homeescape How to Make a Fire Escape Plan, or just hand draw the house map.
[/box]